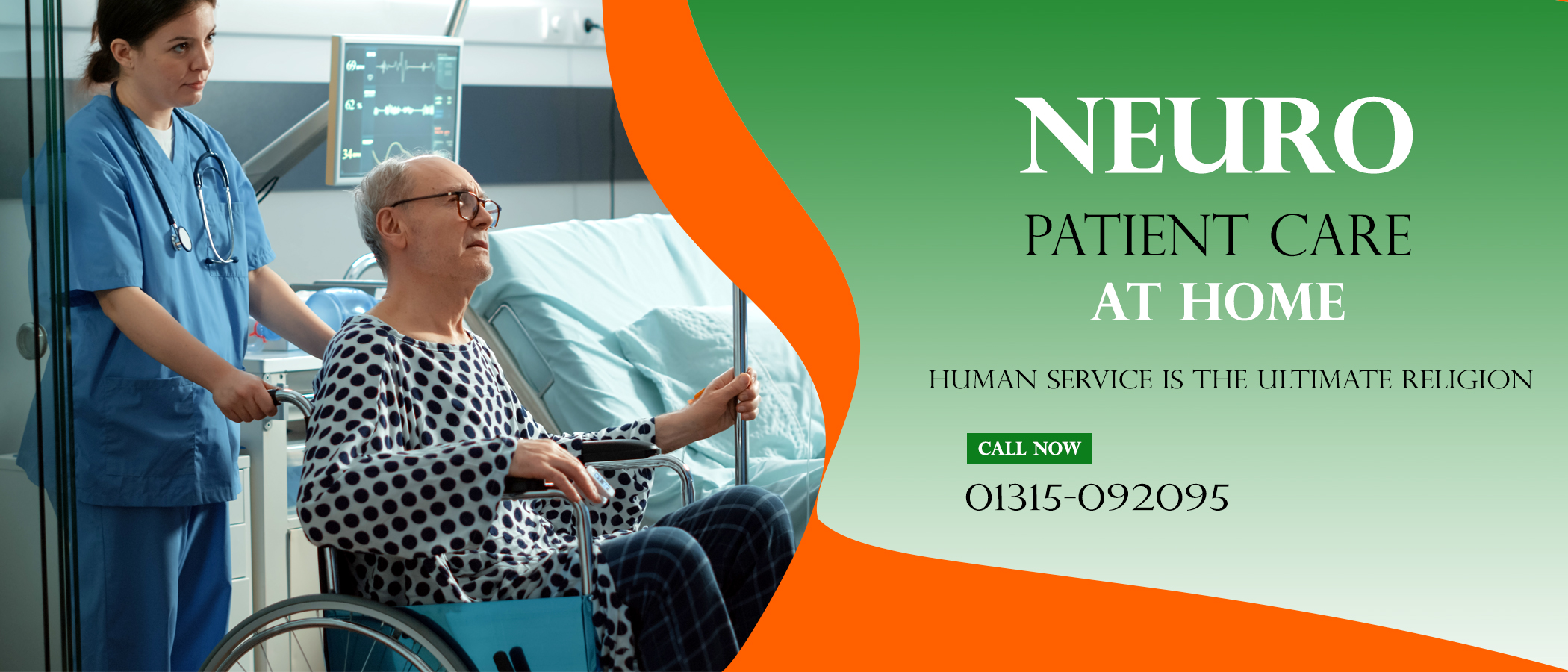 Neuro Patient Home Care BD.
Neuro Patient Home Care BD. Even though you value your loved ones more than your own life, you might not be able to fulfill their needs due to a variety of factors, such as a busy job schedule, residing abroad, or family disputes. You are concerned for your senior loved one's health and safety. Nursing Agency BD for patient home care We have long provided 8, 12, or 24 hour care or assistance to the elderly in need of care throughout Bangladesh based on those human ideals. For your needs, we are always at your side.

We are providing the best possible service to clients at home through neuro patient care services. Any neurologic condition can be safely treated by our team for patients who need this service. Our knowledgeable staff assists patients while also educating their loved ones about numerous instruments. This service delivery procedure is made simpler as a result. Care for seniors to use Maisha Care Limited's neuro patient care at home service for yourself or a loved one, contact our address.
Choose a plan for your patient
We provide skilled Nurse and Caregiver at your home

12 Hours ​shift



​Educ​ations: SSC, HSC



trained



​Old Age Care



​Patient's hygienic and cleanness



​ ​Stable Patient Handling



​baby care



​Day or night

get plan

Paramedical Course Complete



12 Hours ​ shift



​Elde​r​ly care



Patient's hygienic and cleanness



​ICU patient care



Dementia patient Care



​Day or night

.
get plan

8 Hours ​shift



Handling critical patient



NICU, ICU, Surgical patient Care



Neuro patient Care



palliative patient



​Morning/evening/night



.
get plan
Nursing Home care BD। Service you will get from us
Your family is looking for skilled nurses to care for ​Dementia parents or sick loved ones
Care is provided by experienced nurses and care giver home service
Contact now to get home nursing services at home
To know more about the service
Experienced Nurse/Caregiver.
Providing services in accordance with health regulations.
Extra care for the elderly
100% security guarantee
Fastest service delivery.
Accurate and quality service
24 hours customer support.
Guarantee to provide service as per demand.
We are offering experienced ​neuro patient care home service.
Neuro Patient Home Care in Dkaha,Bangladesh
The care of critically ill neurological patients and those recovering from neurological surgery is the focus of neurological intensive care units, which are specialized units in several tertiary care facilities. Early and vigorous medical measures, such as the management of pain, airways, breathing, anticoagulation, increased ICP, cardiovascular stability, and secondary brain injury, are the main objectives of NICUs. Admission requirements include the inability to protect airways, progressive respiratory weakness, the need for mechanical ventilation, and seizure. monitoring of neurologic function in critically ill individuals, radiologic evidence of increased ICP At Tertiary Referral Hospital, use of the neuro-ICU has been rising. Neuro Patient Home Care BD.

Neuro patient Nursing home care
Due to their primary injury, patients in NICUs are particularly vulnerable and require assistance with all aspects of personal hygiene. To prevent the emergence of elevated ICP, it is advantageous to be aware of the patient's intracranial adaptive capacity, also known as intracranial compliance. All nursing interventions are carried out with the intention of benefiting the patient, including sanitary ones, ones that avoid pressure ulcers, those that treat surgical wounds, those that use endotracheal suctioning when artificial breathing is required, and others. However, nursing interventions can cause high ICP and can be distressing. As a result, it is the nurse's duty to organize the interventions in a way that strikes a balance between the advantages for the patient's wellbeing and the risk of an elevated ICP, which could result in secondary injuries. Neuro Patient Home Care BD.
Nursing home care in Bangladesh
Hypothermia: Between one-third and fifty percent of people with coronary artery disease will experience a heart-stopping event. Seven to thirty percent of individuals with heart attacks recover neurologically and leave the hospital (conscious, with normal brain function, alert, and capable of leading a normal life). In comparison to no cooling, lowering a patient's body temperature to between 32 and 34 degrees within the first six hours of hospitalization doubles the number of those who do not have major brain injury and improves survival rates. Multimodality monitoring can monitor disease and prevent secondary harm in states that are insensitive to neurological exams or circumstances complicated by sedation, neuromuscular blockade, and coma, ICP (subarachnoid hemorrhages, TBI, hydrocephalus, stroke, CNS infection, hepatic failure). Management of intracranial pressure (ICP): Ventricular catheter to track brain oxygenation, glucose, and PH levels Treatment options include decompressive hemi-craniotomy, barbiturates, hypertonic serum, and hypothermia. Neuro Patient Home Care BD.