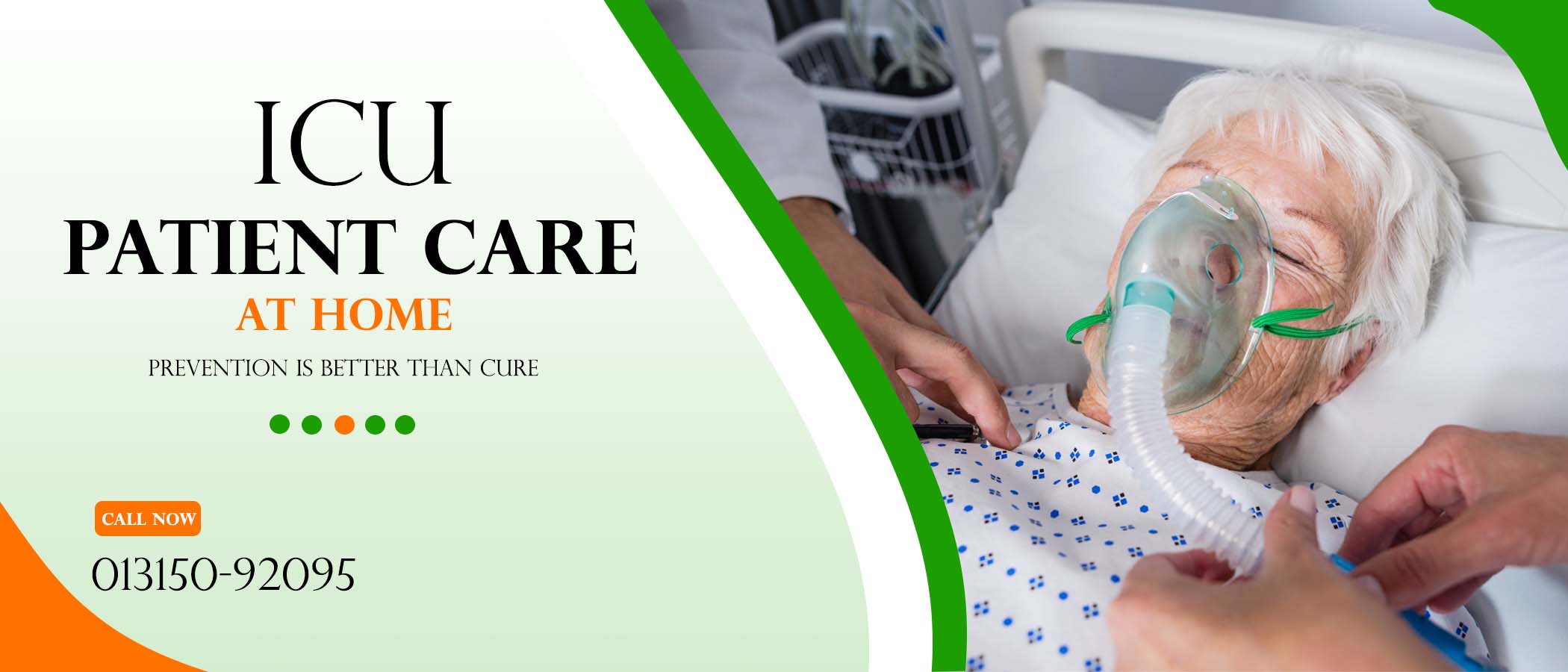 ICU Patient Home Care BD. ​Nursing home service in Dhaka, Bangladesh
The skilled patient care attendants and nurses team of Maisha Care Limited are always active with ICU Patient Care Services. If your parents, relatives or acquaintances have an ICU patient, we go to the home and hospital and provide nursing services. We have skilled and trained Patient Care Attendants and Diploma / B.Sc Nurses who are providing 8/12/24 hours of service at the patient's home or in the hospital.
Contact us now to get more of our other services including ICU Patient Care Services.

Nursing home service in Dhaka, Bangladesh

People discuss their nursing care in ICU Patient Home Care BD here. Even if they occasionally had trouble remembering their named nurses' names, the majority of patients had nothing but positive things to say about the ICU personnel as a whole and the treatment they received. For many patients, the care was "great," and the nurses were kind, upbeat, competent, and composed. Many people talked about special moments they had while receiving intensive care, such as birthday celebrations. One man remembered how the nurses arranged for him to short visit his dogs while out of the ICU Patient Home Care BD in the hopes that this would aid in his recovery. Ambulance services are available here.
Pick a strategy for your patient.
৳ 800

12 Hours ​shift



​Educ​ations: SSC, HSC



trained



​Old Age Care



​Patient's hygienic and cleanness



​ ​Stable Patient Handling



​Day or night

.
get plan
৳ 1000

Paramedical Course Complete



12 Hours ​ shift



​Elde​r​ly care



Patient's hygienic and cleanness



​ICU patient care



Dementia patient Care



​Day or night

.
get plan
৳ 1200

8 Hours ​shift



Handling critical patient



NICU, ICU, Surgical patient Care



Neuro patient Care



palliative patient



​Morning/evening/night



.
get plan
Patient Care Home Service BD। Nursing Home Service BD.
In every province of Bangladesh, we offer home nursing services. Since a number of years ago, we have been offering nursing services with the intention of offering home nursing services in accordance with medical advise. Send us a message from anywhere in Bangladesh. PATIENT DETAILS - Well-trained and skilled nurses will be delivered to your address directly from the head office in a controlled manner.
​Our Service:-


Nursing Home Service .


Patient Care Attendant Home Service​


Physiotherapy Home Service​.


Doctor Home visit​.


Old Age Care At Home.​


Maternity Care At Home.​


ICU Patient Care At Home.


Palliative Patient Care At Home. ​


Dementia Patient Care At Home.​


Mental Condition service. ​


Neonatal care. ​

​
Oxygen Support​.


Ambulance Service. ​


Neuro Patient Care home Service. ​


Baby Care At Home. ​

​
Surgical And Medical Equipment Home Service.


Home Nursing Service in Bangladesh। Nurse provider agency.
That is why we require this service from a qualified home care provider. We Provide the Best Nursing Home Service in Bangladesh: In Bangladesh, Maisha Care Limited is the best and most qualified provider of nursing home care. In Bangladesh, we have a lot of experience in nursing home care. Our qualified staff is prepared to provide round-the-clock home nursing care. Depending on the patient's condition, we either assign or provide a nurse. Our knowledgeable administration carefully monitors the nursing service. Additionally, Maisha Care Limited has trained all of our nurses, who are all very nice. Why do you pick our residential service? We are aware that providing excellent care is the key to becoming a competent nurse. For home care, the nurse should be competent and professional.
Intensive care unit ​(ICU)
Patients in intensive care units have serious or life-threatening illnesses or injuries that require round-the-clock attention, close monitoring by life support machinery, and medicines to maintain normal bodily functioning. Highly skilled medical professionals, nurses, and respiratory therapists who specialize in caring for critically ill patients work in these facilities. ICUs differ from ordinary hospital wards by having a larger staff-to-patient ratio and access to cutting-edge medical tools and resources that are not frequently found elsewhere. Acute respiratory distress syndrome, septic shock, and other life-threatening illnesses are frequently treated in ICU. Patients may be referred directly from an emergency room, a hospital ward, or immediately after surgery if the procedure was highly invasive and the patient was at high risk of complications or deteriorated rapidly.
Nursing home service in Dhaka,Bangladesh। Quality of care
The information at hand points to a link between ICU volume and the standard of care provided to patients who require mechanical ventilation. Higher ICU staffing was substantially associated with reduced ICU and hospital death rates after controlling for illness severity, demographic factors, and ICU characteristics (such as the presence of intensivists on staff). In contrast to the 4:1 or 5:1 ratio normally observed on medical floors, a ratio of 2 patients to 1 nurse is advised for a medical ICU. ICUs are often staffed on a 2:1 basis in Australia and the United Kingdom (for high-dependency patients who require closer monitoring or more extensive treatment than a hospital ward can deliver), although this varies by nation. a patient on a mechanical ventilator who is also receiving anesthetics or sedatives such as Propofol or midazolam, as well as strong analgesics such as morphine, fentanyl, and/or remifentanil, or a patient who requires 1:1 assistance and monitoring. International standards advise using a proven clinical tool to check every patient for delirium every day (typically twice or as often as necessary). The Intensive Care Delirium Screening Checklist and the Confusion Assessment Method for the ICU (CAM-ICU) are the two that are most frequently used (ICDSC). These tools have been translated into more than 20 languages, and many ICUs throughout the world use them. Nursing home service in Dhaka, Bangladesh.