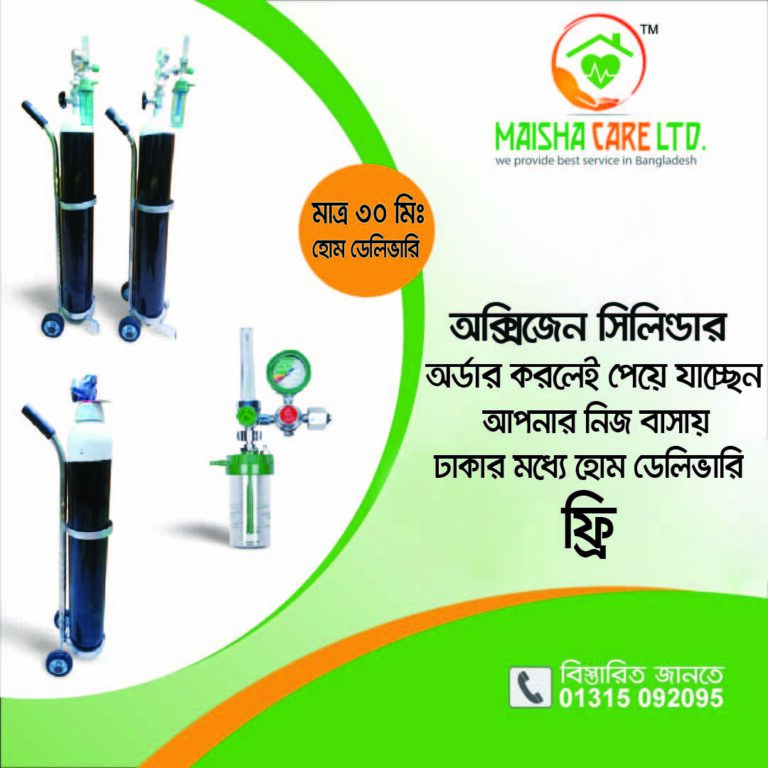 You can now rent or buy Oxygen Cylinders from "Maisha Care LTD" at home for sick elderly parents or loved ones. Our skilled and trained team is providing oxygen cylinders 24 hours a day in and out of Dhaka for the needs of the patients. Our team will deliver the oxygen cylinder (including the oxygen flowmeter and nasal canola) to your home as per the doctor's advice. We are getting Lindy brand oxygen cylinders from China and BOC, also have a pulse oximeter, oxygen concentration machine. We are also by your side to refill the oxygen cylinder. After all, our goal is to deliver the best quality products and earn your trust.
Our Other Products: Abdominal Belt, Adult Diaper (Belt System), Adult Diaper (Pant Style), Air Cushion, Air Mattress, Ambu Bag, Artery Forceps, Bed Pen (PVC), Bed sheet (Underpad), Bed sheet (Underpad), BIPAP Machine Beyond, BP Machine Digital, BP Machine Manual, Brain Circuit, Cardiac Monitor, Cervical collar, Colostomy Bag, Comfit Examination Gloves, Commode Chair (Portable Folding), Cool Water Bag, Cotton Roll, Cpap Machine Beyond, Crepe Bandage, Deluxe Commode Wheelchair, Digital Weight Machine, Digital Weight Machine CAMRY, Disposable Syringe 10 cc, Disposable Syringe 5 cc, Dolphin Massager, Dressing Tray, Duo Derm, ECG-Machine, Elastic Adhesive Bandage, Elbow Bag, Elbow Crutches Sticks, Electric Hospital Bed 3 Function, Electric Hospital Bed Five Function, Electric Hospital Bed Five Function, Electric Hot Water Bag, Eye Sheet, Face Mask, Foley Catheter, Food Trolley, Food Trolley China, Gluco Meter / Sugar Machine, Gulli Pots, Hand Cratch, Hand Stick, Hexisol, Hospital bed Manual 2 Function, Hospital bed Manual 3 Function, Hot Water Bag, Infusion Set, IRR Machine Philips, IRR Machine Procare, IV Cannula, Kidney Tray, Medical Flow Meter, Medicine Crusher, Medicine Trolley, Medicine Trolley, Micropore, Nasal Oxygen Cannula, Nebulizer Machine, Nebulizer Mask, NG Tube, Oxygen Concentrator Owgels 10L, Oxygen Concentrator owgels 5L, Oxygen Concentrator Rent, Oxygen Cylinder islam, Oxygen Cylinder Linde, Oxygen Cylinder Refill, Oxygen Cylinder Rent, Oxygen Face Mask, Oxygen Trolley, Pill Box, Plain Seizer, Povisep Solution 1 Liter Pack, Pulse Oximeter, Relax and Tone Handheld Full Body Massager, Roller Bandage, Saline Stand । IV Stand, Spirometers, Sponge Holder Forcep, Steamer Machine, Suction Catheter, Suction Machine, Sugar Machine, Surgery Gauze, Surgical Hand Gloves, Tens Acupuncture Digital Therapy Machine, Tharmoscaner, Thermometer Digital, Thermometer Manual, Toomey Syringe, Tracheostomy Tube (Cuffed), Tracheostomy Tube (Plain), Tynor Compression Stocking Mid Thigh (Pair), Urine Bag, Urometer, Ventilator, Vibrator infrared blood circulation massager, Walker, Walking Stick 4 Leg, Wheel Chair, Wheel Chair Model: AGST001B, Wheelchair with Commode.
Our Services: Nursing Care At Home – Covid-Non Covid Patient, Patient Care Attendant Home Service – Covid-Non Covid Patient, Physiotherapy Home Service, Oxygen Cylinder Home Service, Surgical Items Home Service, Doctor Home Visit, Neuro Patient Care Home Service, Baby Care At Home, Old Age Care At Home, Ambulance Service, Physical & Emotional Issues Management, Caring Traumatic Injuries & Palliative Care, Managing Dementia, Parkinson & Alzheimer's disease patients, First Aid & Emergencies, Common Elderly Physical & Mental Conditions, Pregnancy, Maternity & Neonatal Care, Provide Care and Support to Elderly & Caring Multiple Disabilities, Nutrition, Diet Plan & Food Safety, House Keeping Service, Training Centre.