Nursi​​ng Home Service
We Provide Best Nursing Service In Bangladesh
Here is all our nursing service
We provide the most extensive care a person can get outside a hospital. They can get service at home. Maisha Care LTD - offer help with custodial care like bathing, getting dressed, and eating as well as skilled care. Nursing care is given by registered nurses and Patient Care Attendants.

Skilled care also includes services provided by specially trained professionals, such as registered nurses, Patient Care attendants, and Physiotherapists.
You can now take care of patients from us at home. We provide professional service by registered nurses, Patient Care Attendants at home. We have the skill and trained Patient Care Attendants and Diploma / B.Sc. Nurses who will provide 8/12/24 hours of service at the patient home in the hospital. We send two types of nurses to serve patients with patients.
1) Diploma and B.Sc. Nurse/ Brother
2) Trained Nurses (that means Patient Care Attendant. Short meaning called PCA).
learn more
Neuro Patient Care
A patient who have physical or cognitive deficits resulting from neurological illness, injury or decease. We serve patients in all ways of those steps without certified doctor's medical issues.
Below our neuro patient care service, includes:
Care giving Services
Psychiatrists
Nursing
Occupational Therapists.
Physical therapists.
Finally, we serve patients through 3 final method! We make sure about individualised treatment plan, caregiver involvement from first to last and after all these services, we discharge a patient!
learn more
ICU Patient Home Care BD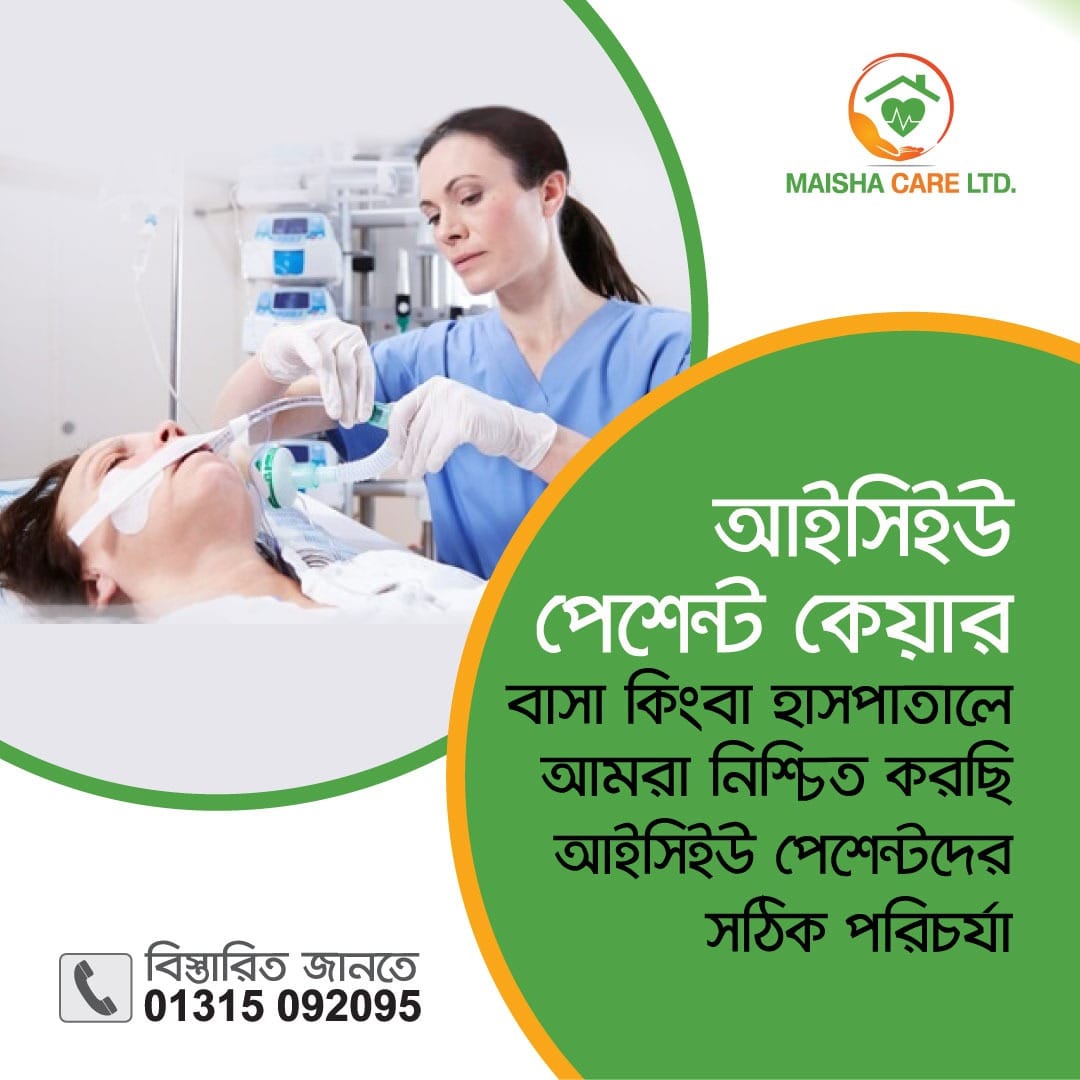 Intensive Home Care nursing for invasive/mechanically ventilated Adults & Children with Tracheostomy and their Families. Maisha Care LTD is focused and specialized on Intensive Care Home Nursing for long-term invasive and mechanically ventilated Adults & Children with Tracheostomy, requiring ongoing high level and specialized nursing care in their own homes. We have created the opportunity to take your loved one home on a ventilator with professional 24/7 support and care for Tracheostomy ventilation at home. ICU Patient Home Care BD is usually assigned his or her own 'named' nurse. We play a vital role in the patient's care, including the following:

Taking regular blood tests
Changing the patient's treatment in line with test results
Giving the patient the drugs and fluids that the doctors have prescribed
Recording the patient's blood pressure, heart rate and oxygen levels
Clearing fluid and mucus from the patient's chest using a suction tube
Turning the patient in his or her bed every few hours to prevent sores on the skin
Cleaning the patient's teeth and moistening the mouth with a wet sponge
Washing the patient in bed
Changing the sheets
Changing a patient's surgical stockings, which help circulation when he or she is inactive (lying still) for a long time
Putting drops in the patient's eyes to make it easier to blink
learn more
Baby Care at Home BD
Baby Care at home are females providing services to help you take care of your kids in your presence or in your absence. Generally a babysitter will care for children full time while both parent are working. Its nanny's responsibility to create daily schedules and engage in activities to ensure healthy mental, physical and emotional growth of the children they care for, provides additional support in managing the household chores. Newborn care basics include:

Handling a newborn, including supporting the Baby's neck
Changing diapers
Bathing
Dressing
Swaddling
Feeding and burping
Cleaning the umbilical cord
Caring for a healing circumcision
Using a bulb syringe to clear the baby's nasal passages
Taking a newborn's temperature
Tips for soothing the baby
learn more
Old Age Care at Home Geriatric Care revolves around assistance in daily living activities like bathing, toileting, feeding, walking etc. Home care plays an important role in promoting the mental health of an individual, so our caregivers engage in emotionally bonding activities like talking to them like a companion, or hearing them out, infused with a high level of patience and calmness. Since our elders need continuous care taking and long-term assistance, we have developed a planned approach for home care for the elderly that promotes their independence and gives them a sense of dignity, while taking care of them in the comfort of their own homes. By evaluating your loved one's healthcare needs in consultation with your physician, we develop a plan that is best suited for them. With our senior citizen home care services for the elderly, we ensure constant monitoring of their health condition and helping reduce their hospital visits, by organizing visits to your home by a qualified Nurse or PCA (that means Patient Care Attendant. Short meaning called PCA) a Physiotherapist.

learn more
Maternity And Neonatal Home Care BD
Neonatal care especially for babies that are pre mature or with some specific medical condition like low birth weight etc. Such babies need special care and should be supported NICU Nurse or a trained 'PCA'. Maisha Care Limited is coming up with Pregnancy Maternity and Neonatal Care. We have an experienced and trained nurse team to provide pregnancy and maternity services. We go to your home or hospital for 8/12/24 hours and come with this service during pregnancy and maternity. We are also providing neonatal care services after childbirth. If you have any acquaintances, relatives, or anyone who is interested in getting Pregnancy Maternity and Neonatal Care services, you must take this service.
learn more
Dementia Patient Home Care BD
We have provided the Dementia Patient care home services. Our Dementia home care services is committed to providing a unique and customized In-Home Dementia home care services approach to senior care with the goal of a lifestyle that provides enjoyment for the one in care, and families with peace of mind. Maisha Care LTD. is a Live-In Home Care company with over three years decades of experience specializing in elderly care needs within the home. Our live-in caregiver staff provides safe and supportive care, along with a 24/7 professional support system that is there for the client and the live-in caregiver at all times. For more information about our Dementia home care services contact
learn more